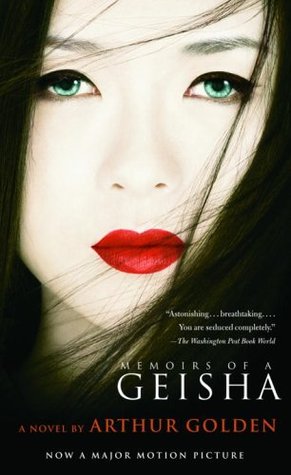 Title: Memoirs of a Geisha
2015 Reading Challenge: #42 – A book you own but have never read
Author: Arthur Golden
I loved this book – and now I'm wondering how it had been sitting on my bookshelf for so long without me reading it!
One thing I noticed is that the reviews on Goodreads seem to be a bit polar – people either seem to really love it, or they really don't.
Purists would probably be in the "really don't love it" camp, because it isn't REALLY a memoir – it's a fiction that is written like a memoir. And to boot, it's written by a western male author. So the general gist of the low-star reviews is that some of the content isn't entirely "authentic" – but there are several who thought this was an ACTUAL memoir and were disappointed when they realised it wasn't.
Personally, I don't really give a crap. It is well-written, and the author has really done his homework. I also found the "pretend memoir" style very interesting – I felt it made the characters that little bit more real.
Who should read it? Anyone who is interested in Japanese culture, particularly Geisha culture. Also, anyone who enjoys historical fiction of the Philippa Gregory sort – I think it would appeal to someone who enjoys the intrigue, insights, and slightly messed-up relationships of that sort of historical fiction (personally I love all of that stuff).
My rating: ⭐️⭐️⭐️⭐️⭐️
~K